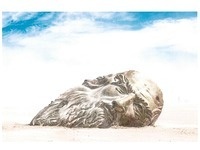 The University of Nevada, Reno will host the display of an iconic sculpture of Leonardo da Vinci on campus through May 1, 2017. Northern Nevada artist...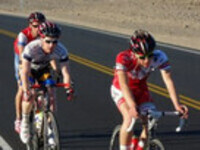 The University of Nevadacycling club hosts a series of road bike races on Saturday, April 15 from 8-12. A criterium race is a closed loop course. The races...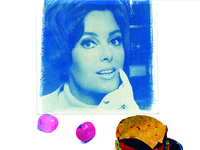 Over the past year, University Galleries has added three major collections of art in addition to several individual acquisitions to the Department of Art's...
Valerie Cohen's exhibition Tree Lines corresponds with a forthcoming publication of the same name from University of Nevada, Press. Artist, writer,...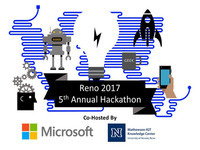 The Mathewson-IGT Knowledge Center at the University of Nevada, Reno will host the 5th Annual Reno Hackathon on April 15-16. The Hackathon is sponsored by...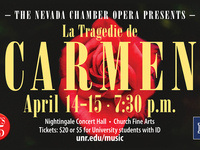 Nevada Chamber Opera presents La Tragédie de Carmen (based on Georges Bizet's "Carmen"), the story of a doomed romance between a sensuous gypsy and Don Jose,...
Called "rhapsodically beautiful" by the New York Times, "Eurydice" is Sarah Ruhl's reimagined vision of the classic Orpheus myth. After her death on her...