The UNR Puzzle Hunt is a self-guided puzzle hunt tour of the UNR campus. Puzzles utilize features and information around campus making this an idea way to...
A weekly event showcasing two Reno startup companies and helps them succeed through audience-led Q&A. Free coffee, connections and community, every Wednesday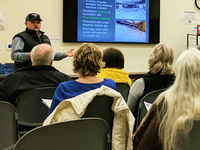 Jan. 9 at Genoa Town Hall, Main Street, Minden, at 6:30 p.m.Jan. 17 at CVIC, 1604 Esmeralda Ave., Minden, at 6 p.m. (Radon Poster Contest Awards Ceremony...