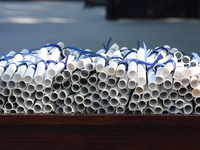 2014 Spring Commencement
The University of Nevada, Reno will conduct two undergraduate ceremonies for Spring 2014 Commencement on the historic Quadrangle, located on the southern part of campus.
The first undergraduate ceremony will be Friday, May 16 for graduates of the College of Agriculture, Biotechnology and Natural Resources, College of Business, College of Education, College of Engineering and Division of Health Sciences.
The second undergraduate ceremony will be Saturday, May 17 for graduates of the Reynolds School of Journalism, College of Liberal Arts and College of Science.
Both undergraduate ceremonies will have the same format: line-up for each will be at 8 a.m. with the processional starting at 8:15 a.m. Students receiving dual degrees are welcome to attend both baccalaureate ceremonies.
The advanced-degree ceremony, for master's and doctoral degrees awarded by all colleges, will be Friday, May 16, with line-up at 4:45 p.m.
Public parking is available in the West Stadium Parking Complex.
For additional information, go to www.unr.edu/commencement. Live-streaming of the ceremonies will be available the day of each event at www.unr.edu. Join the social media conversations by following or using the hashtag #PackPride.
Saturday, May 17, 2014 at 8:00am
Quad