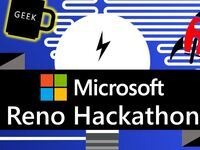 2018 24-Hour Reno Hackathon
Use your coding skills to design, develop and present apps and products! Get ready for competition prizes, raffle prizes and complementary food and drink during the event.
This 24-hour hackathon will increase the awareness of and encourage coding to create usable software by bringing together novice to advanced engineers as well as project managers, marketing specialist and other professionals.
There is a pre-event orientation April 13 from 3 to 5 p.m. at the Innevation Center. For questions, please reach out on Facebook @RenoHackathon.
Sunday, April 22, 2018 at 12:00pm to 12:00pm
Innevation Center
450 Sinclair Street Reno, Nevada 89501
Event Type

Website
Hashtag

Subscribe