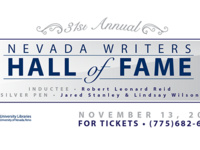 31st Annual Nevada Writers Hall of Fame
University Libraries presents the 31st Annual Nevada Writers Hall of Fame Tuesday, Nov. 13, at 7 p.m. in the Milt Glick Ballroom, 4th floor, at the Joe Crowley Student Union on the University of Nevada, Reno campus. The event's general reception will begin at 6:30 p.m. with the formal program beginning at 7 p.m. The cost to attend is $40 per person. Tickets can be purchased online by visiting: http://bit.ly/NWHOF2018.
The 2018 Nevada Writers Hall of Fame inductee is Robert Leonard Reid.
The 2018 Silver Pen recipients are Jared Stanley and Lindsay Wilson.
The Nevada Writers Hall of Fame was conceived by former Friends of the University Libraries President Marilyn Melton in 1988. She envisioned two purposes: an annual event honoring Nevada's finest writers, and a stimulus to encourage excellence among emerging writers in the Silver State. Honorees are selected based on their body of work, critical recognition, and a strong connection to Nevada through the themes of their writing or residence in the state.
For event sponsorship information, or general questions regarding the 2018 Nevada Writers Hall of Fame please contact Robin Monteith, University Libraries' assistant director of development, 775-682-5656, or via email at robinmonteith@unr.edu.
Tuesday, November 13, 2018 at 7:00pm to 9:00pm
Joe Crowley Student Union, Milt Glick Ballroom
1500 North Virginia Street
Event Type

Departments

Pricing

Website