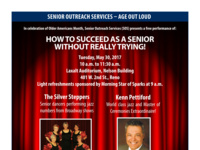 Age Out Loud: How to Succeed as a Senior Without Really Trying!
Tuesday, May 30, 2017
10 a.m. to 11:30 a.m.
Laxalt Auditorium, Nelson Building
401 W. 2nd St., Reno
Light refreshments sponsored by Morning Star of Sparks at 9 a.m.
--
FEATURING:
The Silver Steppers
Senior dancers performing jazz numbers from Broadway shows
Kenn Pettiford
World class jazz and Master of Ceremonies Extraordinaire!
--
Seating is limited. RSVP by Friday, May 20 to sinaw@unr.edu or call 775-784-7506 or online at
https://howtosucceedsenior.eventbrite.com.
Free parking is available for this event in the metered city lot on the east side (right side as you face the front).
--
For more information, please see the attached flyer.
Tuesday, May 30, 2017 at 10:00am to 11:30am
Nelson Building, Laxalt Auditorium 401 W. 2nd St., Reno
Event Type

Departments

Pricing

Website