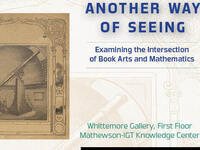 Another Way of Seeing: Examining the intersection of Book Arts and Mathematics
This exhibition showcases works from the University Libraries Special Collections Book Arts and rare books collections. It examines the connections between Book Arts, Geometry and Physics. Book Arts and printmaking are practices that utilize the applications of math and science in the most rudimentary way; measuring units, configuring a press bed, or sewing signatures. Within this exhibition the works analyze the themes of Sacred Geometry, Time, Space, Light, Color, Astronomy, Mechanics, and Practicum of Book Arts.

Book Arts create personal connections with the viewer through the act of seeing and reading. Book Arts also create personal connections for the artist to explore conceptual ideas. The viewer is able to have an intimate, first-hand experience with an artist book, which allows them to create their own connections.
Friday, September 1, 2017 at 8:00am
Mathewson-IGT Knowledge Center, Whittemore Gallery, First Floor
39.5433916198639, -119.815739840269
Event Type

Departments

Pricing