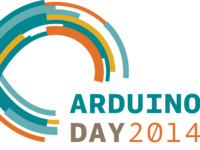 Arduino Day 2014
Theta Tau & UNR Libraries is hosting Arduino Day! Its a worldwide celebration of Arduino's first 10 years, where people interested in Arduino can meet, share their experiences, and learn more.
Arduino invites all Arduino user groups, makerspaces, hackerspaces, fablabs, associations, teachers, pros, and newbies to participate. Let's make this the biggest birthday party yet!
It doesn't matter whether you are an expert or a newbie, an engineer, designer, crafter or maker: Arduino Day is open to anyone who wants to celebrate Arduino and all the things that have been done (or can be done!) with it.
Tuesday, April 29, 2014 at 11:00am to 3:00pm
Mathewson-IGT Knowledge Center, Main Foor - Popular Reading Area
39.5433916198639, -119.815739840269
Event Type

Departments

Pricing

Website