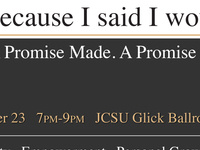 Because I Said I Would Lecture
Because I Said I Would is a social movement and lecture series dedicated to improving humanity through the making and keeping of promises. These promises can be to oneself or to another person. By keeping these promises we make, we continue the betterment of ourselves. The movement focuses on accountability, empowerment, personal growth, and more.
The Joe Crowley Student Union will be bringing Amanda Messer, co-founder of because I said I would, to the University of Nevada, Reno campus on October 23rd. The lecture will be from 7pm to 9pm in the Glick Ballrooms.
Monday, October 23, 2017 at 7:00pm to 9:00pm
Joe Crowley Student Union, Glick Ballrooms
1500 North Virginia Street
Event Type

Departments

Pricing
Group

Hashtag

Subscribe