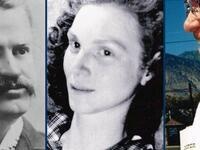 "Borrasca" - Three Incredible Nevada Journalism Careers
Barry Smith recalls the remarkable careers of three members of the Nevada Newspaper Hall of Fame -- Wells Drury, Jack McCloskey and Jean McElrath.

All overcame extreme obstacles to make a lasting mark on journalism in the Silver State. Drury, known as the "fighting editor of the Comstock," started his job in Gold Hill with a bang in 1876. McCloskey made his column, Jasper, a must-read after scratching out a meager beginning in the Great Depression. And Jean McElrath, from Wells, overcame severe physical hardships to become a Distinguished Nevadan through her writing.

This event takes place in the Linn Reading Room in the Reynolds School of Journalism. Free admission.

Barry Smith is executive director of the Nevada Press Association and a former reporter and editor in Nevada, Colorado and Illinois. In addition to his talk, Smith will be bringing an exhibit of the Nevada Newspaper Hall of Fame to the Reynolds School, where it will be displayed Sept. 6-25. The exhibit and talk are supported by the Nevada Press Foundation and John Ben Snow Memorial Trust.

The Nevada Newspaper Hall of Fame is housed permanently at the Reynolds Press Center, 102 N. Curry St., in Carson City in the former Rinckel Mansion. You can read more about it at nevadapress.com under the Hall of Fame tab.
Wednesday, September 20, 2017 at 10:30am to 11:30am
Reynolds School of Journalism, Linn Reading Room The Reynolds School of Journalism
Event Type

Departments

Pricing

Tags
Group

Hashtag

Subscribe