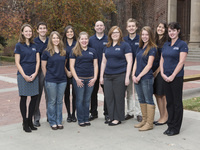 Career Mentor Info Session
Applications are open now for the 2014-15 Career Mentor Team! Come to an info session to learn about the job and gain valuable tips on how to apply. Applications are due Wednesday, April 9.
Positions are available for undergraduate students in good academic standing from all majors. Career Mentors commit to a term of one full academic year and must be available to work 10 hours per week, primarily between the hours of 10:00 am and 4:00 pm. The position pays $10/hour.
Tuesday, April 8, 2014 at 1:00pm to 1:30pm
Nevada Career Studio
Pennington Student Achievement Center room 208, 1664 N. VIrginia St. Reno, NV 89557
Departments

Pricing

Tags

Website
Group

Subscribe