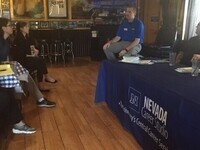 Career Trek
Does a career with an international component sound exciting to you? Have you ever wanted to know more about career opportunities that include a global dimension? If you would like to learn more about with an international focus, join the Nevada Career Studio (NCS) and the Office of International Students (OISS) on a Career Trek!
The Career Trek takes you right into the day-to-day life of professionals and gives you the opportunity to learn observe, build your professional network, and inform your planning and exploration.
The Fall 2018 Career Trek's theme is a "Global Perspectives." We'll showcase local employers in various industries who offer career paths (not just jobs!) for people with skills and interests in international leadership. If this resonates with you, please join us!
Friday, September 21, 2018 at 8:00am to 5:00pm
Reno and environs
Departments
Group

Subscribe