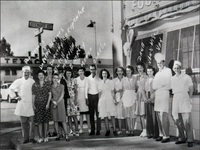 "Changing Faces and Places: Making Nevada" Exhibit
"Changing Faces and Places: Making Nevada" is the second in a series of three Special Collections exhibits commemorating 150 years of Nevada History. These three exhibits will take place during the year leading up to Nevada's official 150th anniversary on October 31st, 2014.
This exhibit explores the people who settled in Nevada and the cultural environment they created, as well as the businesses they developed, the organizations they belonged to and the pastimes they enjoyed. Materials displayed were chosen from the Special Collections photographs, manuscripts, books and campus archives.
Subjects covered range from Nevada's diverse immigrant population, ranches, and snow surveying, to women's suffrage and clubs, as well as Nevada's societal changes with the passing of laws on divorce and gaming to the licensing of prostitution. Also included are historical aspects of past campus athletes, the Cooperative Extension Service, and the buildings of architect Frederic DeLongchamps.
Located on the third floor of the Knowledge Center, "Changing Faces and Places" is open for viewing from 9:00 am to 5:00 pm Monday to Friday and 1:00 pm to 5:00 pm Saturdays on April 12, and May 10. The exhibit runs through June 22, 2014.
Dr. Holly Walton-Buchanan will give a related presentation on April 2 at 7 p.m. in the Faculty Graduate Room on the 4th floor of the Knowledge Center. The talk, entitled "Land of the Buckaroo: Historic Ranches of Western Nevada," is free and open to the public. Her title is based on her new book of the same name. Dr. Walton-Buchanan will discuss the origins of cattle ranching and truck farming in the Truckee Meadows, including the importance of Italian immigrants' contributions to the economy. She will have copies of her book available for sale.
"Changing Faces and Places: Making Nevada" continues the year-long celebration of Nevada's 150 years of statehood with the fascinating stories of Nevada's development of its diverse population – the human dimensions of Nevada's past and the cultural history of the state.
For further information about the program or the exhibit please contact the Special Collections Department, (775) 682-5665 or specoll@unr.edu. http://knowledgecenter.unr.edu/
Friday, June 20, 2014 at 9:00am to 5:00pm
Mathewson-IGT Knowledge Center
Event Type

Pricing

Website