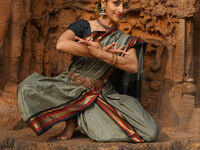 Surabhi Bharadwaj: Classical Indian Dance Artist
Bharatanatyam is an Indian classical dance form originated in southern India by Devadasis 2000 years ago. Creating beauty using the movements of the body forming geometric patterns and the dynamic energy caused by the rhythmic footwork, Bharatanatyam also serves the expression of religious and social themes. Surabhi Bharadwaj is a seasoned Bharatanatyam artist whose versatility and uniqueness has wowed audiences and won her many plaudits across the globe. She is the Founder and Artistic Director of Siddhi Dance Academy established in Dublin, California, with an aim to motivate young minds towards classical art. She also founded Yokayam™, a comprehensive strengthening program that combines Yoga, Kalaripayattu (Indian Martial Art), and Bharatanatyam. She continues to teach Yokayam as a course at Saint Mary's College of California and conducts workshops across the USA to introduce these art forms to a global audience.
This event is supported by the University of Nevada, Reno, School of the Arts Visiting Artist Fund, College of Liberal Arts Hilliard Endowment, and the Department of Theatre & Dance. Tickets: Free.
Note: Patron drop-off area: There is a bus stop driveway at the Stadium Way entrance to the Lombardi Recreation building making it easy to drop off passengers before parking. Parking is free on arts-events evenings (after 7 p.m.) in the Brian J. Whalen Parking Complex, which is north of the Church Fine Arts building and south of Lawlor Events Center.
Friday, October 5, 2018 at 7:30pm
Lombardi Recreation Center, Dance Theatre, Room 123 101 S Stadium Way
Event Type

Departments

Pricing

Tags

Website
Cost

Free

Group

Hashtag

Subscribe