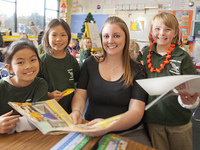 College of Education Career Fair
The region's only Education Career Fair.
Employers are recruiting for teachers, school counselors, administrators, substitutes, aides, nurses, bus drivers, speech pathologists, and more. There are full-time, part-time, and summer-time employment and volunteering opportunities. Come dressed for success and bring several copies of your resume.
Some on-site interviews will be conducted. Washoe County School District will hold hiring seminars throughout the day. Employers from other regions will be recruiting as well.
Why else should you come to the Career Fair?
- do mock interviews with school administrators
- speak with grad school representatives
- find out about the Intergenerational Mentoring Program
- learn about licensing and Praxis testing
- get advice from the Career Studio
Friday, April 25, 2014 at 9:00am to 2:00pm
William J. Raggio Building, 4001
1491-1615 Evans Avenue, University of Nevada, Reno, NV 89512, USA
Departments

Pricing

Website
Group

Subscribe