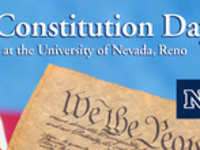 Constitution Day 2018: Public Reading of the Constitution
Come one and all! Join students, staff and faculty in a rousing public reading of the Constitution! Anyone interested in helping to read the Constitution are welcome. Free Constitution booklets will be handed out while supplies last.

We also will have an American Creed Screening and Discussion from 6-8 p.m. at the Joe Crowley Student Union Theater.
On September 17, 1787, the 55 delegates to the Constitutional Convention held their final meeting ~ to sign the U.S. Constitution. A federal law directs public schools and universities to hold programs to commemorate that day. The University of Nevada, Reno is proud to offer events each year that allow students, faculty, campus administrators and the community to discuss the Constitution, its meaning and the freedoms it ensures.
Sponsored by the University of Nevada, Reno
• Office of the President
• Office of the Provost
• Grant Sawyer Center for Justice Studies
• National Judicial College
• Reynolds School of Journalism
• Matthewson-IGT Knowledge Center
• Extended Studies
• The Center: Every Student. Every Story.
• ASUN Center for Student Engagement
• Intercultural Council
• University Police Services
• Northern Nevada Writing Project
Monday, September 17, 2018 at 10:00am to 12:00pm
Mathewson-IGT Knowledge Center, Outside on the steps
39.5433916198639, -119.815739840269
Event Type

Departments

Pricing

Website
Hashtag

Subscribe