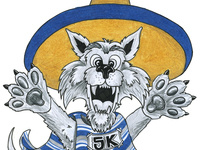 Dean's Future Scholars 5K Fun Run- May 3, 2014 @ 9:00 AM
Dean's Future Scholars (DFS) is hosting its annual 5K run/walk this year with a Cinco de Mayo flair! Proceeds from the Cinco de Mayo 5k will go towards DFS summer programming, which brings over 200 low-income, first-generation students to the university campus each summer to earn high school credits and gain exposure to college life.

The Cinco de Mayo 5K will be held on Saturday, May 3, 2014 at 9:00 A.M. The event will begin and end at Mackay Stadium and the course will go through the beautiful University of Nevada, Reno (UNR) campus. This year's event will feature Latino themed entertainment throughout the course, participant t-shirts, swag bags, and prizes will be awarded to the top 3 runners in the women's and men's divisions.

This event is open to the general public and we welcome runners and walkers or all ages. Even if you are unable to attend this event, you can sponsor a DFS student to go in your place. Details can be found on the attached flyer or by visiting our online registration website: http://www.aiyevents.com/civicrm/event/info?reset=1&id=267
Questions about the DFS Cinco de Mayo 5K can be addressed to Maria Perez, DFS graduate assistant, at mperez@unr.edu. Thank you for your support and we hope to see you at Mackay Stadium on Saturday, May 3rd!
Saturday, May 3, 2014 at 9:00am to 11:00am
Event Type

Departments

Website