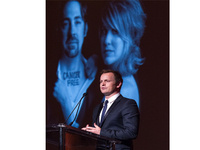 Dear World Live Open Photo Shoot
The Reynolds School of Journalism, the Joe Crowley Student Union and ASUN are organizing an event for the University on September 2 called Dear World Live. The event will feature portrait photographer Robert X. Fogarty and his project Dear World.
About Robert X. Fogarty and Dear World:
Robert, the photographer, has been to a variety of prestigious universities and institutions including Harvard, Stanford, Oxford, Notre Dame, Ohio State and Oregon to name a few.
His work has been featured on the Oprah Winfrey Show, CNN, The Washington Post, The New York Times, Inc. magazine and PBS to mention a few.
He recently shot a series of portraits honoring the victims of the Boston Marathon bombing (http://projects.dearworld.me/boston-marathon).
He unveiled his work on the anniversary of the event this April.
He's also been to Syrian refugee camps (http://syria.dearworld.me/), and to other international destinations to photograph people allowing them to share their personal stories.
Link to Dear World site:
Link to Robert's commencement speech at Oregon from June 2014:
Tuesday, September 2, 2014 at 2:30pm to 5:00pm
Joe Crowley Student Union, Room 323
1500 North Virginia Street
Event Type

Departments

Pricing

Website