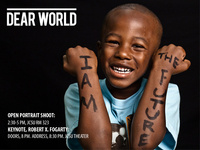 Dear World Live Portrait Release + Keynote Address
Portrait Robert X. Fogarty will be at Nevada on Tuesday, September 2. During his visit he will take portrait photographs of University students, faculty, staff, alumni and friends. The open shoot will take place from 2:30 p.m. - 5 p.m. in the Joe Crowley Student Union, Room 323.
Following the open shoot, Robert will prepare remarks for a keynote address at 8:30 p.m. in the Joe Crowley Student Union Theater on the third floor. The keynote address will highlight all of the portraits taken during Robert's visit to Nevada. Additionally, Robert will feature a handful of inspiring portraits, inviting Univeristy participants to come on stage and share the story behing their portrait.
Dear World is part business/art project/social experiment. Robert has been blessed to have companies and organizations invest in him and my work. And because of these folks, he has been able to travel to places like Joplin and Breezy Point to tell stories of survivors and Jordan to photograph Syrian refugees. And it's in these places where he finds the stories he will bring to the University on Sept. 2.
Stories of hope. Stories of struggle. Stories of a brighter day.
Robert's next step? Dear World is working towards a beautiful, wonderful world where more people send a message to family, friends and strangers in this way - messages on skin in beautiful portrait photographs. Where people get that we're all connected and that we can't build something fast alone, but to build anything great you have to go together.
More on Robert X. Fogarty:
Robert, the photographer, has been to a variety of prestigious universities and institutions including Harvard, Stanford, Oxford, Notre Dame, Ohio State and Oregon to name a few.
His work has been featured on the Oprah Winfrey Show, CNN, The Washington Post, The New York Times, Inc. magazine and PBS to mention a few.
He recently shot a series of portraits honoring the victims of the Boston Marathon bombing (http://projects.dearworld.me/boston-marathon).
He unveiled his work on the anniversary of the event this April.
He's also been to Syrian refugee camps (http://syria.dearworld.me/), and to other international destinations to photograph people allowing them to share their personal stories.
Link to Dear World site:
Link to Robert's commencement speech at Oregon from June 2014:
http://www.youtube.com/watch?v=D1rJsfgrCLM
Tuesday, September 2, 2014 at 8:30pm to 9:30pm
Joe Crowley Student Union, Theater
1500 North Virginia Street
Event Type

Departments

Pricing

Website
Group

Subscribe