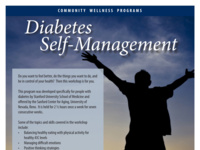 Diabetes Self-Management
Do you want to feel better, do the things you want to do, and be in control of your health? Then this workshop is for you.
This program was developed specifically for people with diabetes by Stanford University School of Medicine and offered by the Sanford Center for Aging, University of Nevada, Reno. It is held for 2 ½ hours once a week for seven consecutive weeks.
Some of the topics and skills covered in the workshop include:
• Balancing healthy eating with physical activity for healthy A1C levels
• Managing difficult emotions
• Positive thinking strategies
• Planning for the future
Class size is limited so register early.
*Please see the attached flyer for more information.
Wednesday, May 31, 2017 at 1:00pm to 3:30am
Sanford Center for Aging, Center for Molecular Medicine, Room 163 University of Nevada, Reno
Event Type

Departments

Pricing

Website