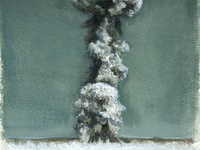 Doom Towns: The People and Landscapes of Atomic Testing
The central purpose of the exhibit is to cultivate an awareness of a fading aspect of Nevada history – the complex and controversial story of the testing of atomic bombs in the desert at the Nevada Test Site. The focus is on the 1950s-1960s, but the exhibit also presents contextual background information and the legacy of the tests. Much of this history has been shrouded in government secrecy until recently, and some results of the tests took decades to emerge.
The exhibit is based on a "graphic history" book with the same title by UNLV History Professor Andrew G. Kirk, published this year by Oxford University Press. The author has made his research and publication materials available for the exhibit. Other related graphic history books from the libraries' collection portray the development of the genre. Despite the popular nature of the format, the book is based on deep and meticulous academic research using primary sources. The exhibit portrays some of the source material available to historians for the exploration of this topic and the creative but rigorous process of using historical documents and photographs to produce a trustworthy yet accessible narrative.
The exhibit tells two intertwined stories: Nevada's role in the rise of the atomic age, and the use of traditional history methodology to sort through vast amount of resources to create a very contemporary, readable book.
Presented by the University Libraries and Nevada Humanities
Friday, December 22, 2017 at 7:30am
Mathewson-IGT Knowledge Center, 1st floor, Whittemore Gallery (outside Wells Fargo Auditorium) 39.5433916198639, -119.815739840269
Event Type

Departments

Pricing