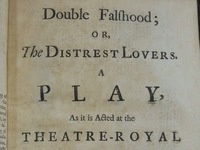 Double Falsehood: Long-lost Shakespeare play or diabolical forgery?
For several years, Tiffany Stern of Oxford University and Brean Hammond of the University of Nottingham have been engaged in a vigorous scholarly debate over the issue of whether a play known as Double Falsehood, discovered in the 18th century, may be the work of Shakespeare.

University of Nevada, Reno faculty member and renowned Shakespearian scholar Eric Rasmussen, along with fellow University English professor Ashley Marshall, moderate a discussion with these scholars on a topic that has caught the attention of international media.

Whereas Hammond is a leading advocate of Shakespeare's authorship and has edited the play for the Arden Shakespeare series, Stern has published detailed arguments that the play is a forgery. To date, their debate has been carried out entirely in print. However, on Tuesday, Feb. 4, on the University of Nevada, Reno campus, the two will meet for the first time for a face-to-face debate.

The program includes a performance by two top University student actors Tara Brown and Wesley Gaines McNair. Directed by Rob Gander, chair of the University's Department of Theatre and Dance, they will present passages from the play Double Falsehood in scenes reminiscent of the balcony scene in Romeo and Juliet.
Tuesday, February 4, 2014 at 7:00pm
Knowledge Center's Wells Fargo Auditorium
Event Type

Departments

Pricing