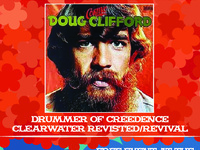 Doug "Cosmo" Clifford of Creedence Clearwater Revival discussing Music Industry
Rock and Roll Hall of Famer Doug Clifford is the drummer for Creedence Clearwater Revival/Revisited. He's been in the industry for 50 years. He's seen a lot and has much to share. He's also been a Northern Nevada resident for 30 years and a major part of our community.
This will be second of the "Dead Day" talks hosted by UNRAES after last semester's talk with Beatles recording engineer Geoff Emerick. We now hope to make it a semesterly event with name industry folks talking about the industry.
Unlike the Emerick event, this one is open to the public! Tell all of your students and CCR fans friends! We will be pre screening questions for Mr. Clifford. So if you have any CCR industry related questions for him, please send them to tom@inspired-amateur.com and I'll forward them to UNRAES to sort through.
Wednesday, December 13, 2017 at 7:00pm to 9:00pm
Church Fine Arts, Nightingale Concert Hall
39.5412425545764, -119.8168797791
Event Type

Departments

Pricing
Cost

Free

Hashtag

Subscribe