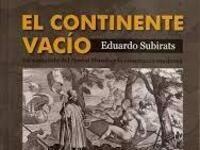 Dr. Eduardo Subirats, "Enlightenment in an Age of Destruction"
"Enlightenment in an Age of Destruction: An Intellectual Project"
THURSDAY, FEBRUARY 20th, WRB #2006,
5 P.M.
~And ~
Dr. Subirats' Keynote Lecture atthe College of Liberal Arts Graduate Symposium (CLAGS)
FRIDAY, FEBRUARY 21st, MIKC 422, 5 P.M
Dr. Subirats is a famous essayist and philosophical critic, author of such important works as:
El continente vacío (Madrid, 1994; México, 1995).
-"The Empty Continent"
Violencia y Civilización (Losada, 2006)
-"Violence and Civilization"
Dr. Subirats' research concentrates on the philosophical development of the Americas north and south of the Río Grande. He has also published on the themes of international violence and nuclear deterrence. He will be presenting his current project "Enlightenment in an Age of Destruction," which interrogates post-enlightenment Latin America and examines the complexities of identity therein. The project is extensive and includes many theorists. He will provide an in-depth introduction to the body of work and help us to understand its applications in the humanities.
The UNR Spanish Club and its Graduate Chapter are honored to welcome him on campus and to invite the University community.
Thursday, February 20, 2014 at 5:00pm to 6:30pm
Event Type

Departments

Pricing