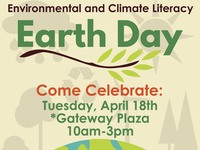 Earth Day Celebration
Come join us for an Earth Day Celebration on Tuesday, April 18th from 10 a.m. to 3 p.m in Gateway Plaza (or in the 15th Street Food Court if it rains)!

This year's event will emphasize environmental and climate literacy. Engage with a variety of environmentally friendly student groups and local organizations to help you better understand your world!
Tuesday, April 18, 2017 at 10:00am to 3:00pm
Joe Crowley Student Union, Gateway Plaza
1500 North Virginia Street
Event Type

Departments

Pricing
Group

Hashtag

Subscribe