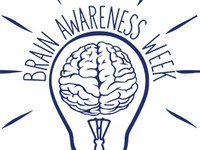 Composition for EEG and Two Computers
Gideon Caplovitz and Jean-Paul Perrotte use brain activity detected by EEG technology to create musical compositions in real time. What kind of music will your thoughts create?
A live performance of approximately 8 minutes in duration that explores ways of presenting different forms of data in new and interesting musical and visual contexts. Streams of numbers, or data, are sent into a Max/MSP patch and converted to produce sound. The data is also used to manipulate video of brain MRIs. During performance, all this technology is artfully sculpted to create a stunning aural and visual experience.
This event is part of Brain Awareness Week (BAW), a global campaign to increase public awareness of the progress and benefits of brain research. The Integrative Neuroscience Center of Biomedical Research Excellence and the Sierra Nevada Society for Neuroscience present a host of student oriented activities March 11-13, 2014, at the University of Nevada, Reno to celebrate and explore the wonders of the brain. For more information, visit http://www.dana.org/baw/. The full schedule of the week is also available at www.unr.edu/neuroscience.
Wednesday, March 12, 2014 at 4:00pm
Mathewson-IGT Knowledge Center, Rotunda
39.5433916198639, -119.815739840269
Event Type

Departments

Pricing