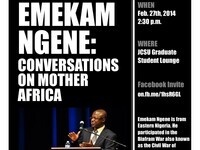 Emekam Ngene: Conversations on Mother Africa
Join the Black Culture Cooperative in this discussion about Mother Africa with the great, Emekam Ngene.

Ngene is a descendant of the Igbo tribe who finds their roots in Eastern Nigeria. He participated in the Biafram War, also known as the Civil War of Nigeria. He is well versed in African History from a Nigerian perspective with a concentration in Elder-to-Child stories not found in any encyclopedia or history book.

Bring friends and don't miss out on this amazing learning opportunity.
Thursday, February 27, 2014 at 2:30pm to 4:30pm
Joe Crowley Student Union, Graduate Student Lounge
1500 North Virginia Street
Event Type

Departments

Pricing

Website