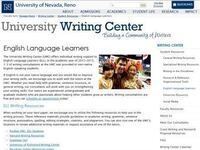 English Language Learners Writer's Workshop Series
The University Writing Center is organizing a writing event series for English Language Learners (ELL). The workshop series is designed to:
A) Provide opportunities to practice English outside of classes;
B) Provide academic writing support.

This semester's topics of discussion include the following:
- writing academic papers in American colleges
- plagiarism
- documentation styles
- paraphrasing
- thesis statements
- article
It is our intent to help ELL students (both international visa students and U.S. residents) become confident writers and we hope to see you there.
Wednesday, April 30, 2014 at 12:30pm to 1:30pm
Mathewson-IGT Knowledge Center, 404 Mathewson-IGT Knowledge Center
Event Type

Departments

Pricing

Website