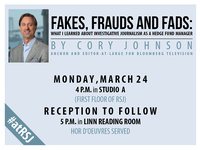 Fakes, Frauds and Fads: What I learned about investigative journalism as a hedge fund manager
Cory Johnson, anchor and editor-at-large for Bloomberg Television, will give a talk titled "Fakes, Frauds and Fads: What I learned about investigative journalism as a hedge fund manager" from 4 – 5 p.m. in Studio A on Monday, March 24. The event is free and open to the public. A reception will take place in the Linn Reading Room following Cory's presentation. It is free and open to the public as well.
In his talk, Cory will share examples of how his career as an investigative journalist helped him become a leading Wall Street hedge fund manager. He will discuss how gathering information, analyzing data and using critical thinking skills helped him identify winning and losing companies, discover discrepancies in key information and uncover trends in the industry.
Cory appears daily on "Bloomberg West," Bloomberg TV's weekday program that covers innovation, technology and the future of business from the network's studio on the West Coast. He provides in-depth coverage of Internet companies, social media, cloud computing and other developments in technology, media and entertainment.
He brings significant experience in technology, finance and investigative journalism to his role at Bloomberg Television. Prior to joining Bloomberg in October 2010, Johnson was a hedge fund manager and private investor. As a portfolio manager at Kingsford Capital Management and an analyst at Cannell Capital LLC, he focused on value investing, short selling, forensic accounting and covering neglected equities in technology, industrials, oil and gas and other sectors.
Prior to his work in finance, Johnson served as CNBC's first-ever Silicon Valley correspondent, where he covered the H-P/Compaq merger, Google's IPO and fraud investigations at Global Crossing, Tenant Healthcare and Worldcom. Before joining CNBC in 2001, Johnson served for over ten years as a magazine writer and editor, covering business, crime and sports. He was a founding reporter for TheStreet.com and founded TheStreet.com's West Coast Bureau. Additionally, Johnson served as a writer-reporter at Time Inc., a senior editor at Vibe magazine and served as the founding editor-in-chief of the hip hop basketball magazine SLAM. He was featured in Houghton Miflin's "The Best American Sportswriters."
Cory received his undergraduate degree from New York University and is a member of Investigative Reporters and Editors.
This event is part of the Reynolds Distinguished Visiting Business Journalist series.
Past Distinguished Visiting Business presenters include: Suzanna Andrews (Vanity Fair writer), Adam Davidson (NPR's Planet Money cofounder and The New York Times Magazine columnist), Micheline Maynard (former New York Times reporter) and Ilan Greenberg (international business reporter).
Monday, March 24, 2014 at 4:00pm to 6:00pm
Event Type

Departments

Pricing

Website