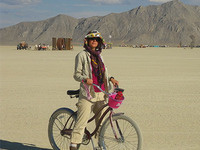 Fall 2017 Burning Inquiry Program: Archaeology and Ethnography of Black Rock City
When you think of Burning Man you don't necessarily think of academic research, but that's not the case for two University of Nevada, Reno professors. Deborah Boehm, associate professor with a joint appointment in Anthropology and Women's Studies/Gender, Race, and Identity, and Carolyn White, associate professor, anthropology; department chair and Mamie Kleberg Chair in Historic Preservation have teamed up for nearly 10 years to conduct research about the archaeology and ethnography of Black Rock City. They will discuss their research findings at the Nevada Museum of Art on Thursday, Sept. 14 at 6 p.m.
The cost to attend is $12 for non-museum members and $8 for members. This program is part of the Nevada Museum of Art's "City of Dust: The Evolution of Burning Man" exhibit on display now through January 7, 2018.
Learn more about this event by clicking here.
Thursday, September 14, 2017 to 7:30pm
Nevada Museum of Art
Event Type

Departments

Pricing

Website