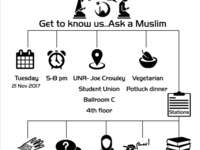 Get to Know Us...Ask a Muslim
Get to Know Us...Ask a Muslim is an event organized by The Center: Every Student, Every Story and hosted at the University of Nevada, Reno. The purpose of the event is to strengthen the communication between the Muslim community and the Reno community. Muslims want to spread their message of peace by coming to this event and talking and engaging with all who attend.
The evening will begin with an introduction from The Center's Interim Director, Araceli Martinez, followed by a recitation of the Holy Quran.
Guests are strongly encouraged to bring a vegetarian dish to share with the community.
Following the dinner, guests are encouraged to visit the multiple stations that are organized by Muslim members. The purpose of these stations is to provide information/resources to members of this community.
Stations include, Henna design, Ask A Muslim, Try a Hijab, Your Name in Arabic, and Islamic Resources.
This event is made possible with the collaborations of Northern Nevada Muslim Community, Graduate Student Association, Counseling Services, Office of International Students and Scholars, Intensive English Language Center Scholars, Equal Opportunity and Title IX, ACTIONN, and Northern Nevada International Center.
For more information, contact Araceli Martinez at 775-784-4936.
Tuesday, November 21, 2017 at 5:00pm to 8:00pm
Joe Crowley Student Union , Ballroom C 1664 N. Virginia St. University of Nevada, Reno, Joe Crowley Student Union