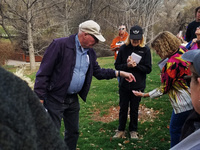 GICES: Fall Tree Identification Presentation & Walk
Presenter: Rod Haulenbeek, certified arborist
2-Part Class Description: Rod will explain the fundamentals of tree identification in a classroom setting for one hour with a two hour tree walk at Dick Taylor park directly following.
12-1 p.m. - Presentation at Washoe Cooperative Extension, 4955 Energy Way, Reno, NV 89502
1:30-3:30 p.m. - Tree Walk at Dick Taylor Memorial Park, 1140 Beech St., Reno, NV 89512
Cost: $5.00 will cover class materials, ISA CEUs and refreshments. Registration fee is for both the presentation and walk.
Continuing Education Units:
1 ISA CEU requested for the presentation
2 ISA CEUs requested for the walk
Wednesday, October 10, 2018 at 12:00pm to 1:30pm
Dick Taylor Memorial Park, Meet at Pavillion 1140 Beech St., Reno, NV 89512
Event Type

Departments

Pricing

Website