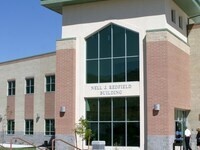 GRE® Test Preparation Course
Seeking a graduate degree? GRE® test scores may be a major component of your college or graduate school application process. Your scores can help determine your admission status and may be used in awarding merit-based scholarships, grants, fellowships and assistantships. Let our GRE® Test Preparation course help you prepare for this important exam!
The GRE® Test Preparation course is ideal for those seeking to begin advanced degrees in a wide range of fields. The GRE® General Test often is required for a variety of master's degree and doctoral degree programs such as Master's of Education (ME), Social Work (MSW), Nurse Practitioner (NP), Business and Public Administration programs. The GRE® General Test measures critical thinking, analytical writing, verbal reasoning and quantitative reasoning skills that are acquired through academic experience and are not related to any specific field of study.
Our GRE® Test Preparation curriculum provides 24-hours of targeted instruction to help you fully prepare for the exam. The course has been developed by former standardized-test-item writers and test-preparation experts, who have years of experience writing test questions and preparing students for success on standardized exams.
In addition, the GRE® Test Preparation course materials include GRE® practice tests, so you can practice the skills and strategies you are learning in class on real test questions. You will master strategies to improve your GRE® score with the help of an experienced GRE® instructor who cares about your success.
Course is offered Sept. 25-Oct. 18:
Sept. 25, 2018 (Tue., 6 - 9 p.m.);
Sept. 27, 2018 (Thu., 6 - 9 p.m.);
Oct. 2, 2018 (Tue., 6 - 9 p.m.);
Oct. 4, 2018 (Thu., 6 - 9 p.m.);
Oct. 9, 2018 (Tue., 6 - 9 p.m.);
Oct. 11, 2018 (Thu., 6 - 9 p.m.);
Oct. 16, 2018 (Tue., 6 - 9 p.m.);
Oct. 18, 2018 (Thu., 6 - 9 p.m.)
Tuesday, September 25, 2018 at 6:00pm to 9:00pm
Redfield Campus 18600 Wedge Parkway, Reno, NV 89511
Event Type

Departments

Pricing

Website
Hashtag

Subscribe