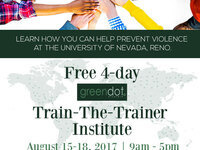 Green Dot Train-the-Trainer Institute
We are pleased to announce the Green Dot Training Institute will be coming to the University of Nevada, Reno. Green Dot is a comprehensive, research based bystander intervention programs that has been found effective in lowering interpersonal violence on college campuses. To learn more about Green Dot visit the website.
The institute will take place on August 15 -18, 2017. The institute is four full days, 9am-5pm, where each participant will become a certified Green Dot instructor.
This training is open to faculty and staff at the University of Nevada as well as staff at collaborating agencies and institutions.
Attending the institute does not require you to perform trainings. The institute will provide information about the program so that we can have a successful launch of the bystander intervention program at the University of Nevada, Reno.
You can request a short overview speech of Green Dot for your department or agency.
If you have any additional comments or questions about the training or attending please contact us at nvcares@unr.edu.
You can register for the training at: http://gdtunr2.eventzilla.net - Using event code: GDTUNR (case sensitive)
Friday, August 18, 2017 at 9:00am to 5:00pm
Joe Crowley Student Union, Milt Glick Grand Ballroom C
1500 North Virginia Street
Event Type

Departments

Pricing

Website