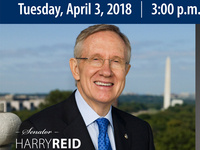 Harry Reid Public Engagement Lecture Series
Former U.S. Senate Majority Leader. Sen. Harry Reid (D-Nev.) and former Secretary of State and former Chairman of the Senate Foreign Relations Committee John Kerry will appear together as part of the inaugural Harry Reid Public Engagement Lecture Series event at 3 p.m., Tuesday, April 3, in the Milt Glick Ballrooms in the Joe Crowley Student Union.
The topic for Reid and Kerry's talk is "Bipartisanship and Public Service." The lecture series is a bi-annual event to honor Reid's many contributions to the University and the state. Reid lecturers are high-profile individuals whose careers in government, public service, or community activism demonstrate the contribution humanities disciplines can make to public life.
The event is free and open to the public. Seats are not guaranteed, and seating will be on a first-come, first-served basis. Reservations are required: www.unr.edu/giving/reid.
Tuesday, April 3, 2018 at 3:00pm to 5:00pm
Joe Crowley Student Union, Milt Glick Ballrooms
1500 North Virginia Street
Event Type

Departments

Pricing

Website