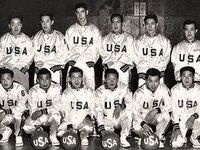 How Asian Americans Became America's "Model Minority"
Through WWII, Asian Americans were seen as a "yellow peril" and an unassailable aliens. But just two decades later, they were seen as a "model minority." How and why did this happen? Come hear guest-speaker Dr. Ellen D. Wu from the University of Indiana, Bloomington and find out!
Anyone interested in citizenship, race, immigration, the Cold War, cultural history, or postwar US history should attend. Please join us!
Sponsored by the Hilliard Endowment for the Humanities; the Gender, Race, and Identity Program; and the Department of History
Tuesday, April 15, 2014 at 6:00pm to 7:00pm
MIKC, 124 (Wells Fargo Auditorium)
Event Type

Departments

Pricing