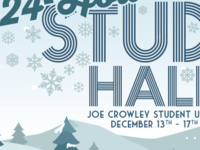 JCSU 24-Hour Study Hall
It's that time of the year again! The semester is almost over and finals are here. The Joe will be open 24 hours round the clock, so you can study until the sun comes up.
WEDNESDAY ONLY: Take a study break from 7-9pm to participate in Canvas Finger Painting located in the Food Court! Canvas and paint will be provided, don't miss out and stop by while supplies last!
THURSDAY ONLY: Frustrated by finals? Release it by joining in on a FREE Yoga sessions @ 7pm & 8pm located in the Great Room! Along with Yoga, there will be a DIY Trail Mix Bar, the perfect study snack! (For Yoga participants only).
SUNDAY ONLY: Get your mind going and satisfy your sweet tooth with our Dessert Bar from 9-11pm located in the Great Room!
On all three days, there will be extra destressing activities including our very own oxygen bar, a room full of board games, coloring room, and Take 5 will be available, all around the third floor. Coffee, snacks, scantrons, and bluebooks will be given away in concessions on the third floor. All general activities will take place from 7pm-12am. GOOD LUCK WOLF PACK ON FINALS!
Sunday, December 17, 2017 at 7:00pm to 12:00am
Joe Crowley Student Union, 3rd Floor
1500 North Virginia Street
Event Type

Departments

Pricing

Website
Group

Hashtag

Subscribe