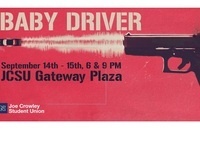 JCSU Movie Series: Baby Driver
If you couldn't see Baby Driver in theaters before, now is the time! There will be showings at 6pm & 9pm in the Joe Theater or out on Gateway Plaza on Thursday and Friday with free popcorn! Don't miss out!
After being coerced into working for a crime boss, a young getaway driver finds himself taking part in a heist doomed to fail.
Rating: R, 94% Rotten Tomatoes
Thursday, September 14, 2017 at 6:00pm
JCSU Theatre
Event Type

Departments

Pricing
Cost

Free

Group

Hashtag

Subscribe