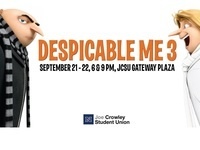 JCSU Movie Series: Despicable Me 3
If you couldn't see Despicable Me 3 in theaters before, now is the time! There will be showings at 6pm & 9pm in the Joe Theater or out on Gateway Plaza on Thursday and Friday with free popcorn! Don't miss out!
Gru meets his long-lost charming, cheerful, and more successful twin brother Dru who wants to team up with him for one last criminal heist.
Rating: PG, 61% Rotten Tomatoes
Thursday, September 21, 2017 at 6:00pm
JCSU Theatre, Theatre 1500 N. Virginia Street
Event Type

Departments

Pricing

Website
Cost

Free

Group

Hashtag

Subscribe