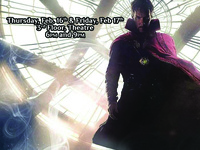 JCSU Movie Series: Doctor Strange
Did you miss Doctor Strange, a part of the Marvel Series, in theaters? Well now you can see it in the Joe theater with popcorn, for FREE! There are movie showings at 6pm and 9pm.
A disgraced former surgeon named Stephen Strange (Benedict Cumberbatch) becomes a powerful sorcerer under the tutelage of a mystic known as the Ancient One (Tilda Swinton). Rachel McAdams, Mads Mikkelsen, and Chiwetel Ejiofor co-star in this entry in the Marvel Cinematic Universe.
Rated PG-13, 90% on Rotten Tomatoes
Friday, February 17, 2017 at 6:00pm
Joe Crowley Student Union, Theater
1500 North Virginia Street