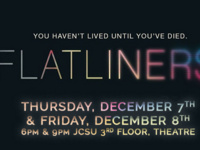 JCSU Movie Series: Flatliners
If you weren't able to see Flatliners in theaters before, now is your chance! There will be showings at 6pm & 9pm in the Joe Theater on Thursday & Friday with free popcorn! Don't miss out!
Five medical students, obsessed by what lies beyond the confines of life, embark on a daring experiment: by stopping their hearts for short periods, each triggers a near-death experience - giving them a firsthand account of the afterlife.
Rated: PG-13
Friday, December 8, 2017 at 9:00pm to 11:00pm
Joe Crowley Student Union, Theatre
1500 North Virginia Street
Event Type

Departments

Pricing

Website
Group

Hashtag

Subscribe