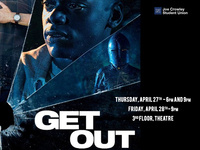 JCSU Movie Series: Get Out
This week's movie is Get Out, one of the top rated movies of the year with great reviews from critics and movie goers. Don't miss out on your last chance to experience this suspensful horror movie in theaters! Showings at 6pm and 9pm in the Joe theater on Thursday and Friday night!
Now that Chris and his girlfriend, Rose, have reached the meet-the-parents milestone of dating, she invites him for a weekend getaway upstate with Missy and Dean. At first, Chris reads the family's overly accommodating behavior as nervous attempts to deal with their daughter's interracial relationship, but as the weekend progresses, a series of increasingly disturbing discoveries lead him to a truth that he could have never imagined.
Rated: R, 99% Rotten Tomatoes
Friday, April 28, 2017 at 6:00pm
Joe Crowley Student Union, Theater
1500 North Virginia Street
Event Type

Departments

Pricing
Group

Hashtag

Subscribe