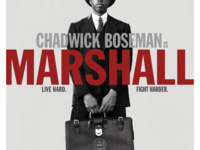 JCSU Movie Series: Marshall
If you weren't able to see "Marshall" in theaters, now is your chance! Join us for free showings of "Marshall" with free popcorn! There will be a 6 p.m. and 9 p.m. screening on both Thursday and Friday evenings.
About a young Thurgood Marshall, the first African-American Supreme Court Justice, as he battles through one of his career-defining cases.
Rated: PG-13, 83% Rotten Tomatoes.
Friday, February 2 at 9:00pm to 11:00pm
Joe Crowley Student Union, Theatre
1500 North Virginia Street
Event Type

Departments

Pricing

Category
Cost

Free

Group

Hashtag

Subscribe