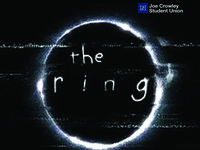 JCSU Movie Series: Rings
If you enjoy horror movies, we have one for you playing at the Joe! Come watch Rings at 6pm or 9pm on Thursday and Friday for FREE with FREE popcorn all night long!
A new chapter in the beloved RING horror franchise. A young woman becomes worried about her boyfriend when he explores a dark subculture surrounding a mysterious videotape said to kill the watcher seven days after he has viewed it. She sacrifices herself to save her boyfriend and in doing so makes a horrifying discovery: there is a "movie within the movie" that no one has ever seen before...
Rating: PG-13, 7% Rotten Tomatoes
Friday, April 14, 2017 at 6:00pm
Joe Crowley Student Union, Theater
1500 North Virginia Street
Departments

Pricing

Website
Group

Hashtag

Subscribe