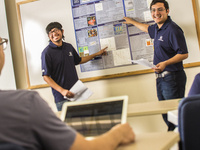 McNair Scholars Research Symposium
Explore the undergraduate research of students in the McNair Scholars Program during the 1st Annual McNair Scholars Research Symposium. Students will present their summer research projects in fields ranging from engineering to psychology. Research presentations will take place simultaneously in three rooms on first floor of the Knowledge Center: 104, 107, and 114.
This symposium caps the end of an eight-week summer program where McNair Scholars conducted research under the guidance of a faculty member, completed a GRE preparation course, and prepared for the graduate school admissions process. The McNair Scholars Program provides research opportunities and academic experiences to promote the attainment of a doctoral degree for first-generation, income qualified, and underrepresented undergraduates.
Friday, August 4, 2017 at 10:30am to 11:45am
Mathewson-IGT Knowledge Center, 104, 107, 114
39.5433916198639, -119.815739840269
Event Type

Departments

Pricing

Website