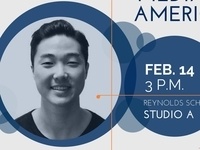 Media And The Asian-American Experience
"If studies show that films with diverse casts result in higher box office numbers and returns on investments, why doesn't Hollywood cast lead actors to reflect this fact?"
This is the question that Will Yu, a digital strategist based out of New York City, set out to solve and change when he began the #StarringJohnCho social media campaign. Yu will be using the social media campaign as an anchor when he addresses students about the ripples of underrepresentation of Asian-Americans in media can have effects at the box office and beyond at the Reynolds School of Journalism on Feb. 14 at 3 p.m. in Studio A.
The #StarringJohnCho campaign aims to draw attention to the entertainment industry's penchant for white washing lead roles by photoshopping Korean-American actor John Cho into blockbuster movie posters to indicate what it would look like if Asian actors were cast as often as their white counterparts.
Students and faculty from all departments and disciplines are welcome to attend. The talk comes during Oscars season, which is proving to be an increasingly important time for talking about representation in Hollywood as the Academy of Motion Pictures and Sciences has come under scrutiny for its lack of diversity among Oscar nominees.
With the popularity and traction gained by the Starring John Cho campaign, Yu has been able to foster engaging conversations both online and in-person through his speaking engagements. Don't miss this opportunity to hear him share his perspective!
The event is made possible through a partnership with the American Advertising Federation - Reno.
Wednesday, February 14, 2018 at 3:00pm to 4:00pm
Reynolds School of Journalism, Studio A
Event Type

Departments

Pricing

Category