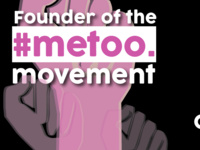 'metoo. Movement' with Tarana Burke
Tarana Burke shares the story behind the 2017 TIME Person of the Year 'me too.' movement. #MeToo is not just an overnight hashtag sensation; Tarana has dedicated more than 25 years of her life to a movement that was initially created to help young women of color who survived sexual abuse and assault. The movement now inspires solidarity, amplifies the voices of thousands of victims, and puts the focus back on survivors.

To reserve your spot, get your FREE ticket on our 'metoo. Movement' page.
For more info go to https://www.unr.edu/union/metoo.

If you require a reasonable accommodation in order to participate in this event, please contact Morgan Zuziak two weeks prior to the event at 775-784-6505 or mzuziak@unr.edu.
Wednesday, October 3, 2018 at 6:00pm
Joe Crowley Student Union, Glick Ballrooms
1500 North Virginia Street
Event Type

Departments

Pricing

Category

Website
Group

Hashtag

Subscribe