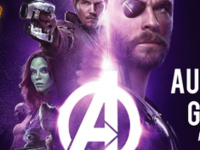 Movie Series: Avengers Infinity War
Taking summer classes? We have just the cure to get you through - our weekly summer movie series!

Whether you missed "Breaking In" in theaters or just want to see it again, swing by for a free screening on Gateway Plaza (in front of the Joe) and free popcorn.

The Avengers and their allies must be willing to sacrifice all in an attempt to defeat the powerful Thanos before his blitz of devastation and ruin puts an end to the universe.
Rated: PG-13, 83% Rotten Tomatoes

Please note that all movies are subject to change. Inclement weather location will be the JCSU Theatre on the 3rd Floor.
Thursday, August 16, 2018 at 9:00pm to 11:00pm
Joe Crowley Student Union, Gateway Plaza
1500 North Virginia Street
Departments

Pricing

Website
Group

Hashtag

Subscribe