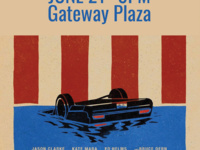 Movie Series: Chappaquiddick
Taking summer classes? We have just the cure to get you through - our weekly summer movie series!
Join us with your friends for this free screening of Chappaquiddick on the Gateway Plaza (in front of the Joe) and free popcorn.
On July 18, 1969, Sen. Ted Kennedy drives his car off of a bridge on Massachusetts' Chappaquiddick Island. The accident results in the death of passenger Mary Jo Kopechne, a 28-year-old campaign strategist who worked for Kennedy. The ongoing investigation into the mysterious and scandalous events forever alters his political legacy -- and ultimately changes the course of presidential history.
Rated: PG-13, 80% Rotten Tomatoes
Please note that all movies are subject to change. Inclement weather location will be the JCSU Theatre on the 3rd Floor.
Thursday, June 21, 2018 at 9:00pm to 11:30pm
Joe Crowley Student Union, Gateway Plaza
1500 North Virginia Street
Event Type

Departments

Pricing

Website
Group

Hashtag

Subscribe