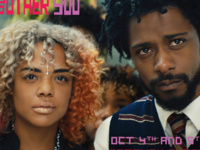 Movie Series: Sorry to Bother You
Join the Joe in our weekly FREE movie series every Thursday and Friday nights at 6 PM and 9 PM (unless otherwise noted). Bring your friends and enjoy an evening of cinema, free popcorn provided!
In an alternate present-day version of Oakland, black telemarketer Cassius Green discovers a magical key to professional success, which propels him into a macabre universe of "powercalling" that leads to material glory. But the upswing in Cassius' career raises serious red flags with his girlfriend Detroit, a performance artist and minimum-wage striver who's secretly part of a Banksy-style activist collective. As his friends and co-workers organize in protest of corporate oppression, Cassius falls under the spell of his company's cocaine-snorting CEO Steve Lift, who offers him a salary beyond his wildest dreams.
Rated: R, 94% Rotten Tomatoes
Please note that all movies are subject to change.
If you require a reasonable accommodation in order to participate in this event, please contact Morgan Zuziak two weeks prior to the event at 775-784-6505 or mzuziak@unr.edu.
Friday, October 5, 2018 at 9:00pm
Joe Crowley Student Union, Theater
1500 North Virginia Street
Event Type

Departments

Pricing

Tags

Website
Group

Hashtag

Subscribe